A seed was sown
About
Established in 2014, Dorset Rewilding is an environmental education enterprise founded by Victoria Vincent.
Victoria has long been passionate about wildlife, it's conservation and connecting people with their natural heritage. After gaining her BSc degree in Ecology & Wildlife Conservation at Bournemouth University, she went on to work for the largest conservation charity in Dorset - Dorset Widlife Trust, as a Engagement & Education officer at one of their education centres. Here, she ran nature clubs for children and their families in half terms and school holidays, and delivered environmental education to children visiting on their school field trips.
Victoria became interested in finding more affective longlasting environmental education, and so undertook the Level 3 Forest School Practitioner award.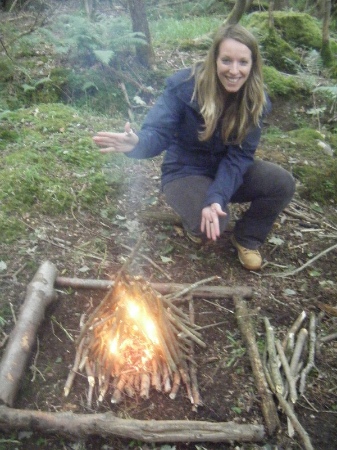 Victoria says: During my time working for the trust, my role was to engage people with Dorset's wildlife and illustrate where possible the trust's conservation efforts across the county. Sometimes this is not so easy to do, particularly where public encounters can be fleeting. So, I was keen to learn of forest school; a more affective, longer lasting engagement practice that not only supports the fundamental aims of my aspirations (engaging people with nature and its conservation), but offers a deeper connection for the user as well.
I believe people can only truly connect to nature, and have an understanding of its value and worth, if they have hands on learning experiences themselves. For instance, looking at a picture of a woodland in spring would be a pleasant visual, but actually being able to stand in that woodland, and sense and feel your surroundings, you would discover it was quite magical! Likewise, viewing animals in enclosed parks, is often the only route people follow to encounter wildlife (even our native species!), but what if you were to have a real, wild, close encounter with wildlife in your local woodland? This will provide you with a much more profound experience, and a memory that perhaps will last you your lifetime.
Forest School supports and facilitates 'wild' experiences by continued, regular contact with nature, and discovery of the great outdoors. As experiences sustain, participants gain a better understanding of their natural environment; perhaps forging a connection, or mounting to a feeling of ownership. In turn, outlooks can become influenced, views may change, and more thought and consideration may be given to the importance of preserving such environments for the future.
In addition to her Forest School leader award, Victoria holds her beach school award, an enhanced DBS certificate, a specific outdoor first aid qualification, has undertaken Level 3 training in the safeguarding of children, holds a LANTRA award in Tree Surveying and Inspection and Brushcutter, Level 2 Food safety award and has full public liability insurance covering all forest school activities.
All of this information can be found in the Forest School handbook, and is available to read upon request.